Plumbing Fixtures
Probably the most used item in the kitchen is the sink and faucet. Don't cut corners here or you will be replacing it before you know it. Garbage disposers, air gaps, lotion dispensers, air switches, water purifiers and faucets, instant hot water machines or water chillers, veggie sinks and pot fillers are some of the other "optional" items that you will find at the kitchen sink as well. If you understand the purpose of these fixtures, you will easily be able to decide if you want or need them or not.
Sinks: Since the kitchen sink and faucet get used more than just about any other product in the house, this is not where I would suggest cutting corners. And with most sinks being installed under the countertop, this is not an item you want to have to replace.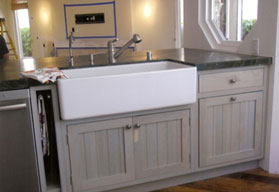 Sink configurations: Years ago there was only one option for sinks in the kitchen: single bowl. Most often they were the farm style sink with the front apron and maybe even a raised back for the faucet. These were sometimes even free-standing sinks back in the day where cabinets were also free-standing (Hoosiers).
Later these single bowl sinks evolved into drop-in types, but I don't think that more than four or five people in my 25 years of designing kitchens has opted for a single bowl sink.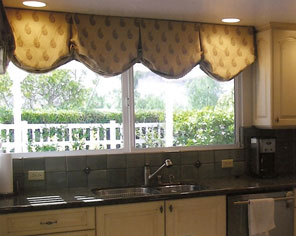 The next option was the 50/50 double bowl sink where there was a deck behind the bowls on which you installed the faucet, etc. and the two bowls were of equal size. A broiler pan or skillet didn't fit in either side. One side was used for washing, the other side for rinsing and the countertop held the almost obsolete dish drainer. Now that we have dishwashers, that scenario is also obsolete. Today, since most items go into the dishwasher, we are concerned with washing the pots and pans and, occasionally, the crystal and china. I haven't sold a 50/50 sink in over 20 years.
Instead, I recommend that one side be larger to give you more flexibility and accommodate pots, pans and broiler pans. You will find numerous configurations, but the most common is a 60/40 split or a 80/20 split. A larger bowl has a wider dimension from left to right, and can also have a larger dimension from front to back if the deck on which the faucet is mounted is moved over to the right, behind the smaller sink bowl. The faucet can still be centered between the two sinks, but the second sink is smaller and is normally used for a dish drainer or a disposer. I personally opt for the dish drainer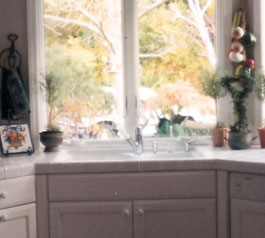 because I don't have time to dry dishes and I don't want the garbage disposer installed under the dish drainer, so it goes in the larger sink.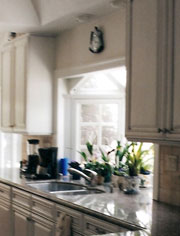 Whether you choose a 50/50 or a 60/40 or an 80/20 combination is up to you - the majority of sinks are still 33"x22" regardless of their configuration. There are also triple bowl sinks that are either 42" or 48" wide that will allow a disposer to be installed in a much smaller bowl in the center. However, you would have to give up more counter space for this option. A newcomer on the scene is the center divider between the two bowls that is lower than the perimeter of the sink. This allows you to have a 50/50 sink but still be able to wash a skillet because the center divider is lower than the handle of the skillet.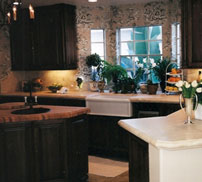 And, last but not least, is the old-fashioned apron(or farm) sink. This sink does not drop into the countertop. These sinks are typically fireclay and have a front that hides the bowls and replaces the false drawer of the sink cabinet. This front, or apron, is also finished and is an integral part of the sink. There is typically no deck on which to mount the faucet, so it is installed on the countertop surface behind the sink.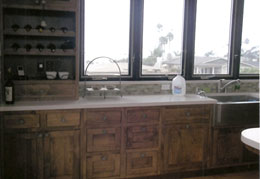 These sinks have a definite country style but are now also available in stainless steel, which makes them more contemporary, as well as composite materials or even stone. Shapes can be round, oval, rectangular, or some curved variation of these. Cleanability is a factor here. And I have heard clients complain that they have more drips down the front of an apron sink.
Sink sizes: You can still purchase the standard 33"x22" double bowl sink with a full-width deck, top-mount or under-mount. In addition to that, there are the various combinations of bowl sizes: medium/large, large/large, large/extra-large. It just depends on what your needs are and how much space you are willing to give up. If you are going to under-mount your sink, then you don't need a deck at all and can even purchase the sink bowls separately. In the case of a double bowl sink, your countertop fabricator would cut two openings for the individual sinks and the countertop would separate the two. The faucet and accessories would be installed on the countertop behind the sink instead of on the sink deck itself. If you look at the European manufacturers of sinks you will also find an option that allows you to have a stainless steel drain board as part of the sink. You will have to specify on which side you would prefer the drain board, being aware of the fact that the drain board does not have to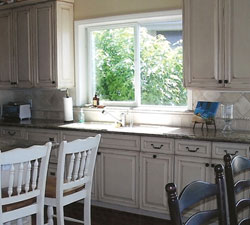 fit into the sink cabinet. It can be installed over the dishwasher if you like. But this brings up a very important point. Once you have ordered your cabinets, you must choose a sink that fits in your sink cabinet. Typically this is a 36" cabinet and will fit a 33" sink. But it won't fit a triple bowl sink or two extra-large bowls. Better to make the sink decision before you order your cabinets. That's why I recommend that clients start shopping for appliances and plumbing fixtures right away, while I am working on the design of the kitchen. In some cases, you may not have the option of having a triple bowl sink due to space limitations. In other cases, you may have to decide between having a lazy susan OR having a large sink, but not both.
Sink materials: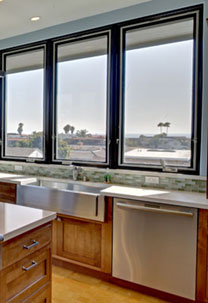 Since stainless steel appliances have been popular for several years now, the popularity of stainless steel sinks has also increased. If you are planning on going this route, be sure you look for 18 gauge sinks. 20 gauge is thinner, not thicker material and isn't adequate for long-term service. If you want a more commercial grade stainless, look for 16 gauge material. The advantages of stainless steel are that it doesn't chip or stain, like porcelain and enamel sinks, but unless they are well-insulated, they can be noisier and can dent if you drop something extremely heavy like a cast iron skillet. You also want to make sure that when you are cleaning them, you scrub with the grain instead of against it. A good stainless steel sink will cost more than a cast iron sink though you can buy a cheap one at a home store for $50. Another cheaper option is porcelain on metal. These sinks look like a more durable cast iron sink, but will damage far easier. A heavy item dropped into this sink could result in the porcelain popping off and exposing the metal underneath. This is a very inexpensive option, so plan on replacing the sink soon if you go this route. If you're not sure whether you have cast iron or metal, you won't have to guess when you go to remove the sink. If you can lift the sink with one hand, it is metal.
A cast iron sink will be difficult for one person to lift. Another difference between the two is that a cast iron sink has an enamel coating, which is more durable than porcelain because it is applied to a denser base material. However, when the government required that lead be removed from enamel paints, it also applied to enamel sinks and the durability dropped.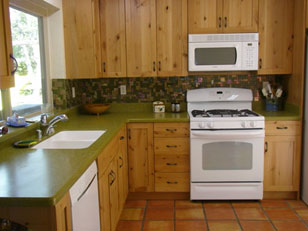 Composite sinks, such as Corian or a quartz composite are extremely durable and may even come with a longer warranty than the one year that a metal, stainless or cast iron sink comes with. Composite sinks, won't stain, chip, dent or scratch like the others and are easier to repair, but they aren't the cheapest option. They also have limited color availability.
Occasionally you might see a stone sink, cut from granite or marble, but these sinks are very rare and very expensive. However, they are indestructible and will last longer than you or I will. If you are considering soapstone counters, definitely look into soapstone sinks to match. They have been around for years and are very durable. They do need to be oiled occasionally for maintenance.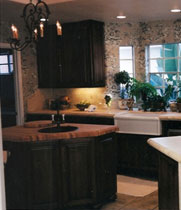 Another designer option for sinks is brass, copper or zinc. These metals are more often found in wet bars because they are expensive materials are more often found in wet bars because they are expensive materials and the larger the sink, the more they cost. However, it is interesting to note than copper and zinc are both anti-microbial, which may be important to you and may be worth the additional cost.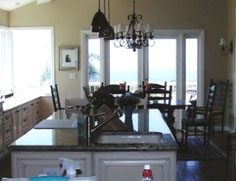 Veggie/Bar Sinks: Depending on your personal needs and the size of your kitchen, you may opt to have a second sink in the kitchen. If you are a two-cook family or do a lot of entertaining, I think you would appreciate having the convenience of a second sink.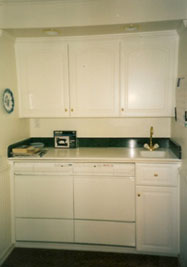 You might even want to consider combining the function of a veggie sink with a wet bar or a laundry sink with a veggie sink (depending on location). These sinks are typically smaller, although the standard 15" sink is definitely too small for a veggie sink and probably too small for a wet bar if you use it much. Look at the offerings for single bowl sinks for your veggie sink. If you have a 50/50 bowl now, that is about the right size for veggies too. Once again, make sure you notify your plumber that you have a second sink going in so he can run the copper supply lines and the drain and make sure the sink you select will fit in your sink cabinet. If you make this decision to add a second sink after you have ordered your cabinets, it is possible to remove a drawer box and attach the drawer head permanently to the cabinet to accommodate a sink and faucet.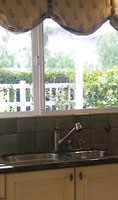 Faucets: Years ago a basic faucet had a hot water valve and a cold water valve. They then evolved into a faucet with a hot lever and a cold lever. The next step was to go to a single lever faucet which mixed the hot and cold with one lever. This is still the most popular option, with the occasional exception of a period-type faucet that is wall mounted or a bridge type faucet. For the past 25 years or so, pull-out sprays have been available for single lever faucets and these have become so convenient that they are not just offered by the European faucet manufacturers, but by almost every plumbing manufacturer.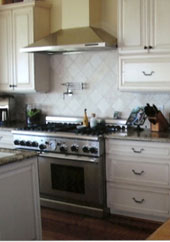 You may also choose to have a pot filler installed above the range or cook top, which exempts you from having to fill up a large heavy pot with water and carry it to the stove. If you have a large family or cook lots of pasta or do a lot of canning, you might want to consider this option. Just make sure to let your plumber know so that he can stub out a waterline at the location you prefer. If you are using a second veggie sink the same options apply as with the main kitchen sink: two handles, single lever or single lever with pullout spray. Just about any faucet can be used on a veggie sink, even a bridge faucet or a wall mounted faucet. Chances are you will want to match the veggie faucet with the main sink faucet. If you have a wet bar faucet, the most common option is a high, arched spout with two levers. Of course you can use whatever you want, but a wet bar faucet won't get as much use as a kitchen faucet, so convenience isn't quite as important here. In terms of finishes, polished chrome is the standard and the base price. Depending on which manufacturer you are looking at, various finishes will be available for an additional charge. Typically the choices are brushed chrome, satin chrome, brushed or satin nickel, stainless steel, copper, brushed or polished brass, bronze, or powder-coated colors. The same options will apply to all faucets, whether or not they are for the main sink, a veggie sink, a bar sink or for a hot or chilled water dispenser. You can even find companies that will offer the same matching finish on air gaps, lotion dispensers, strainer baskets and garbage disposal flanges. Think about it, they should all match.
Hot Water & Chilled Water Machines: If you drink a lot of tea or instant coffee or soups, you might appreciate having an instant hot water machine. It is a miniature hot water tank that is installed in the sink cabinet and requires a single-lever faucet just for the hot water. If you have small children in the house, please make sure they are warned about this "hot" water. It is not just hot, it is steaming hot and will scald you if you aren't careful. This machine will obviously require an outlet for power, so make sure you are willing to bring in an additional source if you don't already have one that can be dedicated to this new device. The plugs under your sink for the disposal and dish-washer are required by code to be dedicated circuits. That means that you can't plug in an instant hot water machine into the same circuit as your dishwasher or disposer. It has to be a separate circuit. Chilled water isn't just "cold" water like tap water, it is chilled water, as in your refrigerator ice/water dispenser. So, if you don't have or want a dispenser on your fridge, you can still get chilled water if you plan for it when you are doing your remodel. This too requires a single-lever faucet for just the cold water. If, however, you install both a hot and a chilled water dispenser, you would require a double-lever faucet in addition to your main faucet.
Water Purifiers: From an environmental perspective, bottled water is bad - especially if you buy them by the case. But there's a reason people buy bottled water - and it has to do with the quality of their tap water. If you live in an area that has heavy metal pollution from manufacturing or pesticides from farm runoff or if your community water district adds fluoride or chlorine to your drinking water, I understand your dilemma. Water quality is a very serious issue and I suggest that you investigate the quality and contents of your drinking water - from a reliable source - not the manufacturer or the farmer, but an engineering lab that can test it. Your local water district will also do testing annually and is required by law to report the results to you. There are various filtration systems to consider if you want purified water to drink - from a pitcher with a carbon filter to an under-the-counter carbon filtration system to a reverse osmosis system to a whole house system.
Obviously the refrigerator pitcher is the most economical way to go and stainless steel and BPA-free water bottles can be filled from whatever choice you make. Under the sink carbon filtration systems will give you bottled water quality while reverse osmosis systems will give you distilled water quality. In addition, be aware that reverse osmosis will waste 3 gallons of water for every gallon filtered. Either one of these two options will require an additional faucet on the sink deck because you will not want to filter the water in your main faucet. You would be changing filters every week. Consider filtering the cold water line to the refrigerator (for drinking water and/or ice cubes) and a cold water line to the purification system. If you are putting in an instant hot or a water chiller, this water should be run through the filtration system because it will be your primary drinking water source. You may wonder why a whole house filtration system is an option. If you consider that your body absorbs 8 glasses of water when you take a shower (your skin is your body's largest organ), then drinking purified water and not showering in purified water doesn't make sense. You may also have very hard water in your area and want to prolong the life of your washing machine or dishwasher by having a whole house filtration system also. It's a personal as well as a financial decision.
Accessories: This list includes garbage disposers, air gaps, lotion/soap dispensers and air switches. Everyone probably knows and has a garbage disposer. Unless yours is brand new, I recommend getting a new one when you remodel your kitchen. Once the disposer has been removed from your old sink, it's difficult to get a good seal from the existing gasket when you re-install it. There are several quality/power levels available here, but I would recommend at least 1/2 to 3/4 horsepower. You want the thing to work. Anything less and it probably won't perform the way you expect it to. And to avoid having unnecessary repairs, don't put potato peelings down the disposal.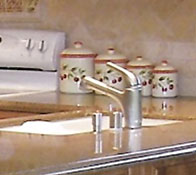 Air gaps, as you probably know, are related to the dishwasher. If your sink is on an island or if your plumber has loop-vented your dishwasher, you may not need an air gap. Otherwise, plan on it taking up another hole on your kitchen sink (or plan on drilling another hole in your countertop).
Lotion/soap dispensers are not a necessity. They are a luxury item, but they are difficult to add later, because you have to order your sink with a specific number of holes for these items. They reduce clutter at the sink and are easy to refill from the top by just lifting out the plunger and pouring in additional product.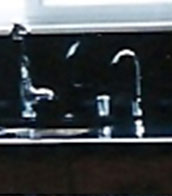 Just so you know about the number of holes to order, you need a hole for your main faucet, one for your air gap, one for your lotion dispenser, one for a purifier spout, one for an instant hot or chilled water spout. Sinks don't come with more than 5 holes, and some don't even come with 5, so make sure you count up your fixtures before you order your sink. Oh, and if you want an air switch for your garbage disposal, which will eliminate the switch on the wall, which also takes up a hole on the sink.
# # #