Cabinetry
Most husbands are concerned about the construction of the cabinetry. Most wives are more concerned with the look of the kitchen. My job is to educate you so that you spend your money wisely, so here are a few facts about cabinets:
Face frame cabinetry: This is the traditional construction that you will find in most existing housing and some new construction. It may have been constructed in a shop or in your house, but it basically is a box with a frame that the door sits on. There may or may not be a back to the cabinet, depending on how old they are. The shelves will be held in place with cleats, or strips of wood under the shelves that are nailed into the wall. The doors are usually a partial overlay where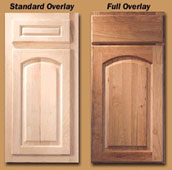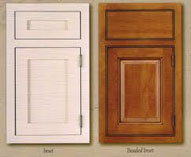 they sit on top of the opening and overlay it by a fraction of an inch, but there are gaps in-between the doors and drawers. The other type of door used on framed construction is the inset door where the door fits into the opening and sits flush with the face frame. There may or may not be a grooved bead around the opening. If you live in a climate where the doors in your house swell up and "stick" in humid weather, you may want to forgo this type of door construction because the same thing will be happening to your cabinet doors. It is possible to have a full overlay door style where the door sits on top of the opening and overlays the opening more like an inch and leaves only about a 1/4 inch gap between the doors and drawers. This is a cleaner look, but the drawers are still the same size as in an overlay or inset door. Personally, I feel that this type of construction wastes space in the drawers - usually an inch on each side. So, if you have a small kitchen or are ending up with narrow drawers, you may want to think about a frameless cabinet so that your drawers are more functional.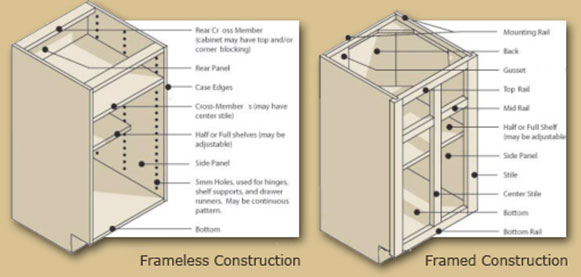 Frameless cabinetry: This type of construction was introduced in Europe first and then made its way to the states. It was first seen in laminate cabinetry because the boxes themselves are usually wrapped in a low-pressure laminate. Later on manufacturers began using wood veneers as well as laminates for the box work and putting wood doors on the boxes as well as laminate. The biggest difference is that frameless cabinets don't have the face frame - the sides of the cabinet extend down to the floor and the doors have to be full overlay. From the outside, you can't tell the difference between a full overlay door on a face frame cabinet or on a frameless cabinet. But when you open the door on a frameless cabinet, the opening is larger for the door and for the drawer. Therefore, drawers are usually about 2" wider on a frameless cabinet. Since most people like the clean look of a full overlay door, I typically specify a frameless cabinet. One other difference with a frameless cabinet is that they may have plastic "legs" that are attached to the box work. In Europe the appliances typically have a 6" toe space, but in the U.S. we use 4-4-1/2". Using the plastic legs allows you to space, but in the U.S. we use 4-4-1/2". Using the plastic legs allows you to use either European or American made appliances and adjust for the difference by just adjusting the height of the legs. It's also an easy way to raise the overall height of the countertop if you are especially tall.
Cabinet materials: Cabinet boxes are typically manufactured with either MDF (medium density fiberboard) or plywood. If MDF if used, then it is usually covered with a low-pressure laminate in white or wood grain. Plywood usually has a clear finish on it. Either way, you won't need to do the shelf paper thing, which I know will make you happy. A damp sponge is all you need to clean out the cabinetry. Lately cabinet manufacturers have started offering "green" options. These are typically plywood boxes made especially with no added formaldehyde for healthier indoor air quality.
Products that aren't "green" will normally use glues that have urea formaldehyde in them. I don't think I need to tell you which is the healthier choice. If you are energy conscious and have caulked and sealed any drafts or air leaks in your house, then you will need to be more conscious of the materials that you bring into your house because your house will not "breathe" like it used to. Just about all building products, furniture, or flooring that involves any kind of glue will typically have urea formaldehyde in it.
Door styles: There are basically three styles of doors.
A slab doors usually made from MDF and has no detail at all on it.
It can either have laminate, enamel paint or wood veneer applied to the outside surfaces depending on which you prefer. This is a more contemporary look and is less busy. As in most cases, the cabinet hardware is the "jewelry" and will finish off the look, but with a slabdoor, the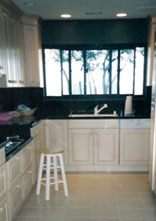 cabinet hardware is even more noticeable and may actually define the style. The advantage of this type of door is its simplicity in the look and in the ease of cleaning.
Raised panel doors made like a picture frame with four pieces of wood creating the frame and the panel in the middle is raised up. There are several ways to detail the panel itself which will change the look slightly. In addition to the detail on the edges of the panel, the detail on the inside and the outside of the frame will also affect the look. This is why there are so many different door styles to choose from.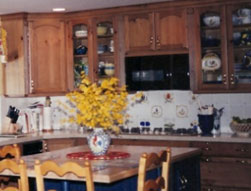 A recessed panel doors made with the same outside frame but the panel in the middle is flat or has a flat beadboard inserted. This is also a simpler look than the raised panel and would be less formal than a raised panel door, but more formal than a slab door. The beadboard panel is more of a country look.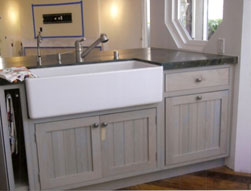 The flat panel can also be replaced with any kind of glass you like as well as speaker cloth or punched tin or beadboard or other decorative look. There is speaker cloth or punched tin or beadboard or other decorative look. There is no right or wrong in choosing door styles. It is a totally personal decision. You may, however, want to take into consideration the style of your house. A Country French kitchen in a contemporary house may look out of place.
Woods and finishes: The more custom the company that is manufacturing the cabinets, the more choices you will have when it comes to choices. A stock cabinet line will offer only a couple of woods and finishes because they will actually stock a few sizes of cabinets in each wood and finish and you won't even have to order them. However, you will be very limited and may only have red oak in one or two stains and painted MDF to choose from. A semi-custom cabinet line will offer, in addition to MDF and red oak, maple or birch, cherry, pine or hickory and maybe alder. A custom cabinetry company will probably offer all of these woods and possibly even allow you to special order a wood such as walnut or bamboo.
Once you have selected the wood that you want, you will need to choose the finish - the stain if it is wood or the color if it is MDF. As with woods, some finishes cost more than others. Typically the more rare the wood, the more expensive it is. With the finish, the more steps involved, the higher the cost. In other words, a natural wood with no stain will cost less than a painted wood with a glaze on it. In general it will be less costly to paint MDF than to paint wood. And if you don't like variation in wood grain, which naturally occurs, then you might want to consider wood laminate which is more even.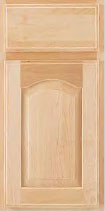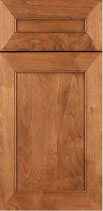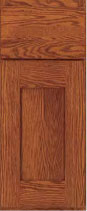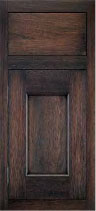 Cherry Maple Alder Oak Lyptus
Accessories: One of the biggest advantages of ordering cabinets from a factory is that you can specify exactly what you want and it will be manufactured to your exact specifications. That means the size and shape, the wood and finish, the door style and any accessories you want. Before we talk about the myriad of accessories available, there are a few things you should be aware of, whether you are ordering factory-made cabinets or locally-made cabinets. Either one can be "custom". One important feature that you may want to ask for is that the cabinet have a back on it. Almost all manufactured cabinetry will come with a full back, except possibly the sink cabinet and the oven cabinet. Another feature that I consider an absolute necessity is adjustable shelves. If you're going to replace your cabinetry, don't bother unless you can add this feature. It not only gives you the flexibility to organize your storage

needs better, but it may also enable you to add an extra shelf which means an extra 25% storage increase. I have found that the most popular accessories that I have requested in almost every kitchen is a lazy susan (if there is a corner situation), roll-out shelves or wide drawers for pots and pans, a pull-out waste basket with at least two bins for recycling, a cutlery divider, a spice rack and a couple of tray dividers in upper depth cabinets. There are lots of other accessories available, but not everyone will




want glass doors or an appliance garage or a wine rack or open shelves for cookbooks. Ask your kitchen designer to show you all the options the cabinet company offers. Some items can be added later, some can't. You are only going to do this kitchen once, so make sure you get it right the first time! This decision can feel a little like buying a car and choosing which options you want on the car - only you don't have to buy accessories in a package, like you do when buying a car. Yes, it does add to the price. But it also makes the kitchen much more efficient. You are going to have to make the decision about how much money you want to spend on extras. I suggest that if you are stretching your budget, you prioritize the options you want. Decorative end panels that look like doors but don't operate are something that you can add later. Pot and pan drawers you can't add later. I decided to wait to replace my dishwasher and refrigerator when they died so that I could order the accessories that I wanted and couldn't order later. This is an area that I suggest you ask a friend or neighbor who has already remodeled their kitchen what they feel they could live without or what they wish they had ordered and didn't.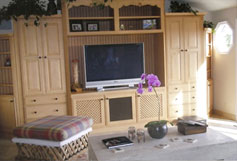 Other applications: Depending on the layout of the kitchen within the house, there may be other areas where you may want some cabinetry to match the kitchen. Since open floor plans are popular, often entertainment centers are requested when the kitchen is being remodeled.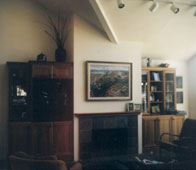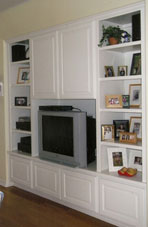 Another application might be a banquette for extra storage and/or seating.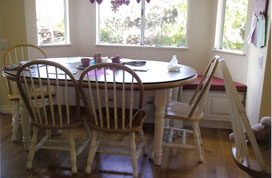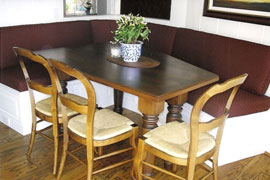 If space is short in the kitchen and additional storage for dishes is needed, a hutch or built-ins may give you the extra space you are looking for.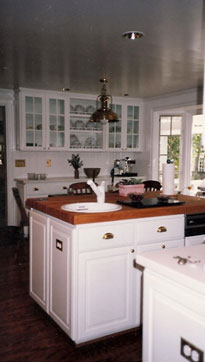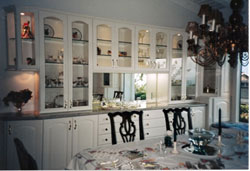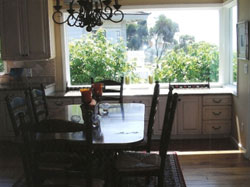 Desks are always popular (if there is space) for a place to store cookbooks, plug in the phones, camera and tablets or keep the purse, mail and car keys out of the cooking area of the kitchen. It may also be the only place where you can squeeze a TV or wine cooler or wine rack.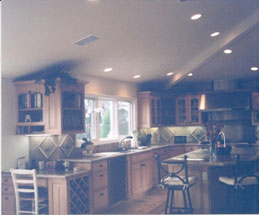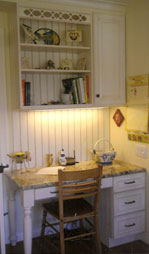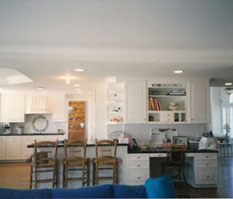 # # #