Backsplashes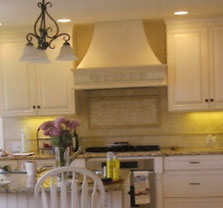 The wall area above the counter and below the wall cabinet is referred to as a back-splash. The typical height is 18", although it can vary from 15" to 24" or even more behind the cooking area. If you currently have a laminate countertop you will most likely have a 4" backsplash that is coved and part of the countertop. If you have ceramic tile counters you will either have a 4" or a 6" splash, depending on the size of the field tiles on the counter. Or you can install what is called a full-height splash which goes from the countertop all the way to the bottom of the wall cabinets. Chances are you will also have a 4" or 6" splash if you have butcher block or solid surface counters. However, you can have whatever you want! You can always have a full-height backsplash and it doesn't have to be the same materials or even the same pattern as on the counters.
The purpose of having any material on the wall is for protection - especially behind the cook top or range. And anything is more durable than paint. So take your pick. If you have solid surface, stone or stainless steel counters, you can request full-height splashes made of the same material. However, it's not uncommon to install tile backsplash with a solid surface or stone countertop. Obviously the more material that is used, the higher the cost, so it may be a budget decision. Very often the backsplash is where all the colors in the room come together: the floor color, the cabinet color and the countertop color. And there are so many beautiful tiles out there, that there's no reason that you can't find exactly what you need. And, since there is a limited amount of splash, this is often where people splurge - since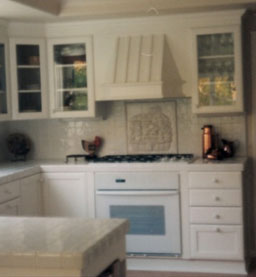 it's a highly visible area. So have fun with it. It's much cheaper to have to change the backsplash material 20 years down the road than to change out the cabinets or countertops or flooring.