Countertops
The horizontal surfaces in your kitchen actually take as much or more wear and tear than your cabinets. I find that there are a lot more people that know what they want when it comes to countertops than when they are talking about cabinetry. There are pro's and con's to every surface and you will have to analyze which one will fit your needs best. A lot of real estate professionals will replace a countertop to spruce up an older home and paint out the cabinets to make it look new, but in the long run should you discover that you have a Mercedes countertop on a Pinto cabinet, you may not be able to save the countertop when you replace the cabinets. In other words, you're stuck unless you have a patient and talented contractor. But there are no guarantees that you can remove a granite countertop without cracking it. So before you replace your counters, be sure you can live with your cabinets for another 20 years.
Laminate: Better known as "Formica", which is a brand name like "Kleenex", plastic laminate is the most inexpensive choice. Years ago, it was just about the only choice. I have found that many people want to up-grade from laminate to another surface. But if you are on a tight budget, putting in a laminate countertop and changing it down the road may help you in the long run. Laminate is made of paper, chemicals, heat and pressure. You definitely want a high pressure laminate for horizontal surfaces. Low pressure is fine for the interior of cabinets, but not countertops. Laminates will come in solid colors as well as patterns and there are several companies that each has their own color selections. The laminate is affixed to a particle board substrate with glue, so ask the fabricator if they have a green option if you are concerned with your indoor air quality. With a laminate countertop, you will not have the option of under-mounting your sink. It will have to be a top mount, or self-rimming type, or one with a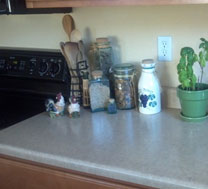 metal band around it. The advantages are low cost and lack of grout joints. The disadvantages are that it is easily damaged by heat or sharp knives. You cannot cut on this surface or put hot pots on it! Laminate countertops will typically come with a post-formed 4"backsplash that is molded to the countertop surface and is coved at the back against the wall. It is possible to custom order laminate counters without this backsplash if you prefer to use a ceramic tile or other material for a backsplash.
Tile: Ceramic tiles an upgrade from laminate because it is more durable and you can put hot pots on it and even cut on it (although you will ruin your knives). But, if you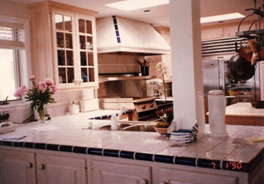 have ever had ceramic tile you know or have heard that the big disadvantage is keeping the grout clean. It is very important to seal the grout and to keep the counter clean. It can be bleached and scrubbed and replaced but these are all time and labor-intensive options. Ceramic tile does give you a certain look though. There are other options besides ceramic tile. You can also use porcelain tile, which is more durable and will not crack as easily as ceramic. And you can also use stone (typically granite or marble) tiles as well. Stone tiles will come in 12"x12" size, but can be cut down if necessary, although most people don't want more grout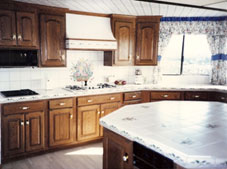 joints, they want less. So larger tiles will satisfy that option. One of the advantages in a tile countertop is that many companies offer special trim and decorative pieces so that you can customize your counter and have a one-of-a-kind design if you want. Backsplashes can be either the height of the tile (typically 4" or 6") or they can be extended up to the bottom of the wall cabinets - called a full height splash. The purpose of this is that tile is typically easier to clean that a painted surface. Cost may also be a factor here and adding a splash later when you have recovered from the cost of the rest of the materials is also an option.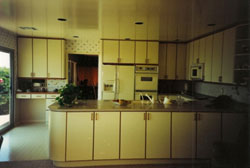 Solid surface: Dupont's Corian was the first solid surface material that was mass produced. It comes in manufactured sheets 30" wide by 120" long. The material is1/2" thick and if someone decides to cut on the surface, it is the same color all the way through. If someone happens to sit a hot pot on the counter and scorches it, it can be repaired by sanding it out. If your counter is longer than 120 inches or if you have an L-shaped or U-shaped countertop, the seams are virtually undetectable, which makes for easier cleaning. And my favorite advantage to solid surface is the fact that it is possible to also have a sink from the same material that is installed in a seamless fashion also. No caulk or grout to deal with! Corian is not the only solid surface company around. There are many others and each design center will offer different manufacturers, although the material will most likely be polyester or acrylic with a resin binder. Solid surface has more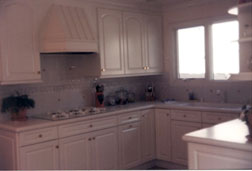 options available in edge details as well and you can choose from a 4" or a 6" or full-height back-splash as well as inlays in the front edge or around the sink or in the splash. Solid surface materials come in a variety of colors, with white usually being the least costly. Patterns will cost more and there may be several tiers in terms of cost with the least expensive being competitive with tile and the most expensive being competitive with granite.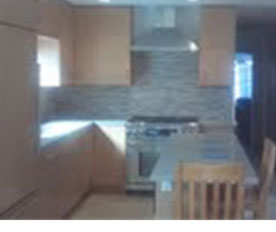 One of the materials that is gaining in popularity is quartz countertops. While it is possible to purchase solid quartz slabs, the option that you will find most is a composite quartz that also uses a resin filler much like the other solid surface materials. Quartz composites will be competitive with stone countertop prices, and are offered by many of the manufacturers that also offer synthetics. There are several trade names, such as Zodiaq. Silesonte, Cambria, Hi-Macs, Cesarstone, etc.
Stone: Natural stone is available in granite, marble, limestone, travertine, quartz, soapstone and onyx.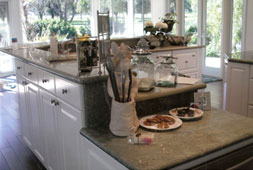 Granite is the material that is most often used for kitchen countertops, although marble makes a great baking counter because of its coldness. Granite and quartz are the most dense, and therefore, the most durable and easiest to take care of. Marble is a little more porous and can require more caution, especially if the material is honed (has the polish taken off).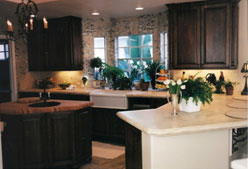 Limestone and travertine are even more porous than marble and will be more difficult to maintain due to staining issues. The cost is the biggest drawback, although there is a wide price range and you should ask your designer or the sales person at the "yard" where the material you like falls in terms of price.
Stone is typically 3/4" thick, although some material is imported in 3cm, which is 1-1/4". There is a broad range of edge details available with a full bullnose being the most common and usually the least expensive because it can be done by a machine. Others that have to be done by hand will add to the cost. The ability to undermount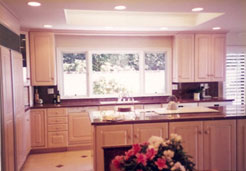 the kitchen sink is a big advantage. The main disadvantage (other than cost) is that the material will need to be sealed and you will still have to be careful with oils and acidic foods such as lemons, limes and oranges. Acids will "etch" or take the polish off the surface - and can be repaired by a professional - but it is a maintenance issue and will cost you extra. The back-splash can be the same material as the horizontal counter or it can be anything else that you like, but it will have to be installed after the counters go in. When you go searching for granite, you will notice that it is available in fairly consistent patterns as well as wild movements that will need to be matched up at the seams. And, since granite or marble is a natural material, it comes in a variety of sizes. Once your kitchen layout has been determined and you have selected your stone, the fabricator will have to determine how many slabs you will need. based on the size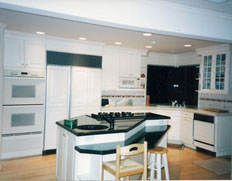 of the slabs available. Keep in mind that you won't want to have a seam on an island. So if you have a very large island in your kitchen, you may want to tell your fabricator so that they can direct you to material that comes in larger sizes. Think in terms of sewing. The wider the fabric is the fewer yards you need. Also, laying out the templates from measuring your kitchen is just like laying out paper patterns on fabric. If you have a large pattern that you want to match up, it will take more material.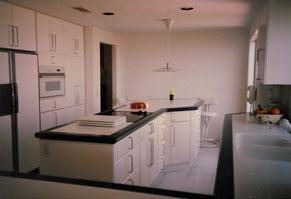 Butcher block: The best surface on which to cut and chop is wood and although butcher block is a beautiful natural material that won't ruin your knives, I have found that people are reluctant to actually use it. Butcher block typically is available in oak or maple, although more exotic woods can be specified. The edge details are the same as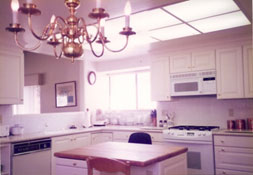 on stone or solid surface and it is possible to get the material with a matching backsplash. Butcher block makes for a great island surface or just about anywhere where you will be doing your chopping. It is susceptible to burns and cuts, but it can be sanded down and made to look like with a basic belt sander. The cost is comparable to tile.
Stainless steel: Although it is a very cold and commercial look, stainless steel is a very sanitary and clean surface. It can be noisy when things are dropped on it, but it is pretty indestructible. It is not meant to be cut on, but it is impervious to heat. The cost is similar to tile and solid surface.
Concrete: A relatively new option in the marketplace, concrete has a natural and contemporary look. You may be thinking in terms of grey, but color can be added and various textures or finishes are available. I don't know anyone who will guarantee a concrete countertop will not crack. This, and finding an experienced contractor are the two biggest objections I have run into.
# # #