Appliances
Believe it or not, many people spend more money on appliances than they do on cabinetry. And that is fine if the mechanical aspect of cooking is what's most important to you. Also remember that appliances most likely won't last as long as cabinetry does. Good quality cabinetry, if it's not abused, should last 25 years plus. It may go out of style if you went the trendy route. And if you put an expensive stone countertop on top of it, which is never going to wear out, you want your cabinetry to last a long time - or else you will be replacing a countertop too. Not so with appliances. These days people expect their appliances to wear out every few years, just like cars. Manufacturers routinely sell extended warranties knowing that you may have problems with your purchase at some time down the road.
Other than longevity, some of the considerations when choosing appliances are function and appearance. Appearance is the easy part because it is entirely personal taste, unless you follow the crowd and do what everyone else does. When it comes to the major appliances, you will have a choice of finishes that range from stainless steel (the current favorite) to white to black. I imagine that if you really looked you could find something almond and Viking is known for their almost limitless color selection. But otherwise you will be deciding whether or not you want to deal with fingerprints (stainless steel) or dirt (white) or dust (black). You can opt out of this decision only on some refrigerators, some dishwashers, some trash compactors (does anyone still buy these things?) and some warming drawers by putting a wood panel on them that matches the cabinetry they are ordering. We will discuss function as we look at each individual appliance.
Refrigerators:
Unless you live out in the country or off in the mountains you will most likely not have a deep freezer, so you will be looking for a refrigerator/freezer combination. However, if you have a large family or don't shop very often it is possible to purchase a 36" wide all-refrigerator IF you splurge for a built-in refrigerator. You can also get a 36" all-freezer as well. But you had better have a large kitchen with plenty of wall space if you're going to devote six feet to refrigeration. The factors that will determine how much you are going to be spending are: capacity/size, model type and finish.
Refrigerator model types: There are four basic types: freestanding, counter-depth, built-in and under-counter.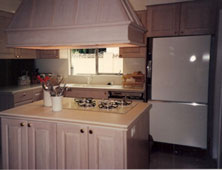 Freestanding unit is the most common, has both sides finished and goes with you when you move. They come in widths of 28", 32" and 36". Heights vary from 66" to 72". And depths will be anywhere from 28" to 33". Base and tall cabinetry standards are 24" deep with an overhang for the counter.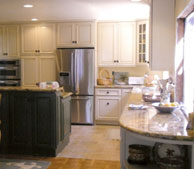 If you don't want the refrigerator to stick out like a sore thumb, you can opt for a counter-depth unit. The depth of these units is typically 24" for the box/case of the refrigerator and an additional 3" or so for the thickness of the door. A counter-depth refrigerator will cost more than a free-standing unit, but about half the price of a true built-in refrigerator. The sides on a counter-depth unit may be black, even though the front of the unit is stainless steel. They are meant to be installed in between walls, tall cabinets or tall end panels.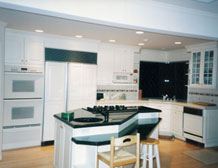 A true built-in refrigerator is 24" deep, plus the door, which will either be stainless steel or prepared for a panel that matches your cabinetry. The biggest difference is the height, which is 84" due to the fact that the compressor is on top of the unit.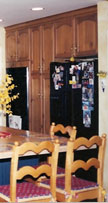 If you would like to install a built-in unit, but the budget doesn't cover it, plan for the width you want, install a wall cabinet above your existing refrigerator for now, and when you buy your built-in unit, you can remove the upper cabinet to allow room for the extra height. Please note that most kitchens have 96" ceilings (unless you have a dropped ceiling or a soffit), so you will need to add a valance above the built-in when it is installed. I recommend that you go ahead and order the valance with the rest of your kitchen now so that the stain will match. Know that built-in refrigerators also come in widths of 42" and 48" in order to give you the option of greater capacity. These widths are NOT available in free-standing or counter-depth units.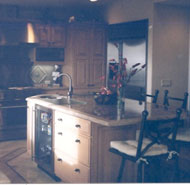 If you really want a 48" built-in, but your budget can't quite stretch that far, consider using an under-counter unit in addition to a more standard size refrigerator. It's amazing how much additional space you might have if you could just get the sodas and juices out of the main fridge and into a 24" under-counter beverage unit. In the same24" space (just like a dishwasher) you can also utilize a refrigerator drawer on the island just for the veggies. Or you can use a 36" all refrigerator built-in unit and have all your freezer space under the counter across the room. These under-counter units also work well when you have lots of windows or a shortage of wall space for a larger refrigerator. Most people are short on refrigerator space and not so much on the freezer. It depends on your family's situation and the size of the room.
Refrigerator capacity: When it comes to capacity, Americans not only think that bigger is better, they will oftentimes keep the old refrigerator in the garage when they bring the new one home - even though they may be old energy hogs. In this country we are in the habit of shopping once a week, so we need a large capacity refrigerator to feed the family. Basically, you are looking at a range of 18-30 cubic feet.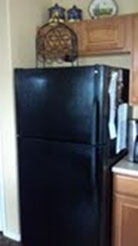 The smallest options, and also the least expensive will be with the over/under unit with the freezer on the top and refrigerator on the bottom. You will not find built-in models or counter-depth models with this configuration - nor will you be able to put wood panels on one. The advantages of this model are price. They are built upside down in my opinion. Why would anyone put the most used area down near the floor and the least-used area up at eye level? In short, they are not convenient unless you are a kid.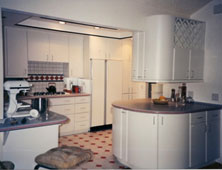 The side-by-side models offer the most freezer space, but if you are big on frozen pizzas or large turkeys, you might not care for this option. Side-by-side models are available in built-in units in widths of 36", 42" and 48". Free-standing units (the kind most of us are familiar with) will have finished sides and will go with you when you move. They can be anywhere from 24" counter-depth to 36" deep (a full foot deeper than your cabinets).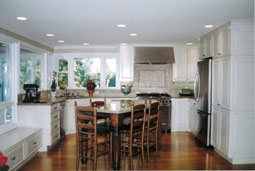 Freezer drawer on the bottom units are my favorite, although if you move, you might have to change the hinging to make the function properly. Unfortunately, since French door refrigerators became popular, the choices on this model have shrunk considerably. Freezer drawer on the bottom units sometimes offer a door with a drawer as well. Depths range from 24" built-in to 36". Unless you are going to spring for a top-of-the-line built-in model, you will not be able to find a counter-depth unit. I tried. They don't exist anymore. The items that you use the most are at eye level, or at least in a good ergonomic range. In other words, you don't have to stand on your head to see what's in the veggie bin. If this is the model that you are choosing, make sure you have the space to open the door all the way so that you can get the bins out to clean them. This applies to all models actually. Just a little pre-planning will save you some inconvenience down the road.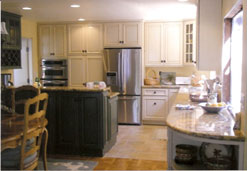 French door units are currently the most popular - by far. I'm not sure why. I agree that freezer drawers are the best choice for sure. But to have to open and close two doors with your hands full doesn't work for me. I know. I ended up with one when I couldn't find a counter-depth freezer drawer with a single upper door. They are fine if all you need can be stored on the door. But to get in the meat/cheese bin, you will have to open both doors. And since both doors open, the countertop ends up being farther away, unless you have an island behind you. That's another reason why I like the single top door units - the countertop is right next to the door handle which makes for convenient loading and unloading. Be careful putting a refrigerator against a wall if the opening doesn't allow the door to open all the way. Also be aware that there are two height dimensions given: the height of the box and the height of the hinge plate. If the cabinet above the fridge is only 12" deep, it may not be an issue. But if the upper cabinet is 24" deep and you haven't allowed for the height of the hinge plate, you won't be able to open the doors of the cabinet.
Refrigerator finishes: We have briefly discussed the basic finishes of stainless steel, white and black. As you would suspect, since stainless steels the most popular, it will also be the most expensive. You can save some money if you are looking for black or white. A wood panel is only an option on certain models. If that option is important to you, tell the salesperson up front and it will eliminate a lot of looking. Wood panels will add to your cabinetry bill, but the unit prepared for panels should cost less than a stainless unit. Refrigerators prepared for wood panels are available for built-in models that are 24"deep and 84" high. They are available in side-by-side or refrigerator over a freezer drawer. True built-ins will not have finished sides. You will need to either have a wall next to the refrigerator or install a full-depth panel from your cabinetry supplier. There are countertop-depth units (24" plus the thickness of the door) that have finished sides and still offer the wood panel option. Otherwise, white and black units will have the sides and front match. Stainless steel units may have black on the sides. Make sure you ask if the sides are going to be visible.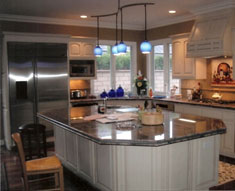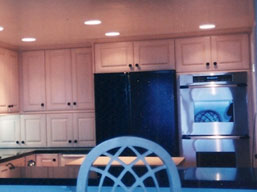 And, last but not least, look for the Energy Star label. Refrigerators have become so efficient in the past few years that you will see a big savings from your existing unit to a new one. You can check the capacity of your existing refrigerator/freezer unit by looking for the metal plate on the inside of the case - typically on the left side of the interior, but sometimes at the bottom. This plate will list the refrigerator capacity and the freezer capacity separately so that you will know what you have now and be able to determine if you want to increase or decrease the sizing of your new model. Then be sure to ask your salesperson to show you the same information on the units you are considering. You may really like the French door unit, but it may not have enough freezer space for you, for instance.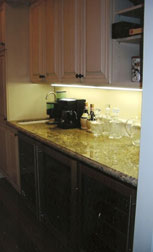 Ice Makers: If you entertain a lot you may want to consider a separate appliance that only produces ice and nothing more. These units are typically 15" wide and fit under the counter anywhere where you can provide power and a water supply. I would also recommend that if you have a water filtration system for drinking water that you also connect your ice maker to the filtration system so the ice can also be purified. These units are available in stainless or wood panels.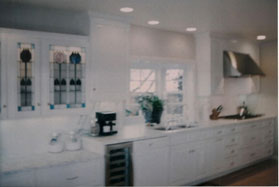 Wine Coolers: These units have become so popular that there are now several sizes from which to choose, both under-the-counter units and tall refrigerator-type units, depending on your needs. Basic sizes are 15" and 24" widths for the under-counter models and 18", 24", 27" or 30" x 84" height for the tall units. Both the under-counter and the tall units can be ordered to accommodate both wine and other beverages.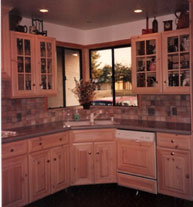 Dishwashers: This is probably the least complicated appliance out there because 99% of them are the same size and can therefore be replaced any time. The majority of the units are 24"wide x 24" deep and 34-1/2" high with some adjustment on the feet. Please don't make the mistake of installing the dishwasher before the wood or Saltillo paver floor and forget to allow for the thickness of the floor. Dishwashers don't adjust that much and you will trap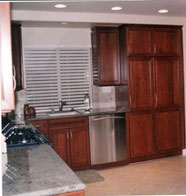 your DW under the counter and will be unable to remove it for repairs or to replace it without first removing the tiles in front of it. Always allow for the thickness of the floor and preferably install the floor under the DW as well. You can still find units with interchangeable panels on the front to allow you to change the color on the front of the machine. However, the trend is toward, you guessed it, stainless steel. It is also possible to order a wood panel for the front of the door, but you will have to specify this up front.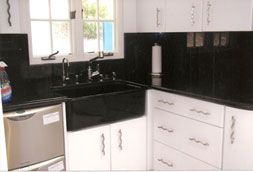 The double drawer unit will be the same size as a standard drop-down dishwasher. The single drawer unit will allow for a cabinet underneath it. As you know, drawers are more convenient than doors, but for some reason, this option hasn't taken off like I thought it would. People are slow to change sometimes.
High-end dishwashers will offer three racks - the usual two plus one shallow one at the top for silverware. Check out the number of settings as well. If you don't even have china or crystal, you may not want to pay for the upgraded model that offers those settings. One of the most sensible upgrades that has come along in recent years is the relocation of the dials, buttons and settings to the top of the DW door instead of the front of the door. This is a huge improvement aesthetically in my opinion, but these units will cost you a little more. And since great rooms have become so popular recently, who wants to have to turn up the TV to be able to hear it over the noise of the dishwasher? If you check out the sone rating, you will know how noisy your dishwasher is going to be. Bosch is my favorite because it is so quiet and is a quality product. If your appliance salesperson isn't working on spiffs (bonuses or trips) offered by the manufacturers, they can give you an honest opinion of which ones are recommended. You can also check out Consumer Reports.
Cooktops/Ranges/Ovens: I can't tell you how many people were motivated to remodel their kitchen because their cooking product died. If you're in this boat and are going to do a complete remodel, this is your chance to change your cooking options! Don't blow it. You can't change it later without a lot of trouble. And you can't change it once your cabinetry is ordered. So think on this one long and hard before you finalize your decisions. And make this decision as early-on as possible since the kitchen is designed around the appliances. The first question that I ask clients about is their cooking habits. What types of cooking do they do? How often do they cook? How many cooks are in the family? How often do they entertain and how many people do they host? Do they do any special type of cooking? How many burners do you need? I use four on a regular basis, but I don't think I could keep track of six.
Cooking fuel types: First things first. What do you have now? Gas or electric or both?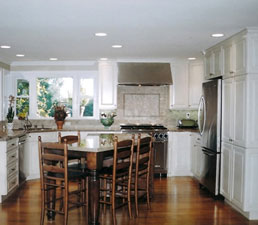 Gas is preferred by many people for the burners because it is easy to control and quick to respond. However, gas ovens are not known for offering the self-cleaning option - so be sure to ask. If you live in the country your natural gas will be propane. You need to be aware of this and specify which type of gas you will need. And, if you haven't purchased a range in a long time, they all have electronic ignitions. So no more proofing the bread in the oven with the pilot light. Since nobody wants a do-it-yourself cleaning option, and most prefer not to have the continuous-clean option, you will be looking for a self-cleaning oven.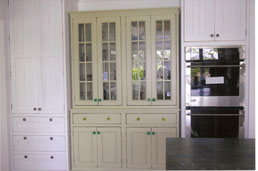 Electric ovens are basically like a toaster oven with a heating element on top to broil and a heating element on the bottom for baking. When you set the temp at 350 degrees, the middle of the oven should be 350. But, as you know, the oven keeps going on and off to attempt to keep the temperature at 350. That results in uneven cooking.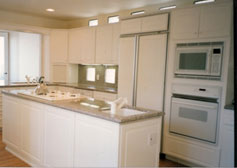 Convection ovens are also electric and have the top and bottom elements for baking and broiling, but they also have a fan in the back which circulates the air to keep the entire oven at 350, which results in more even and consistent results. Foods don't dry out as much and you can bake cookies on all three racks at the same time and get the same results because of this. If you are a baker, I highly recommend a convection oven.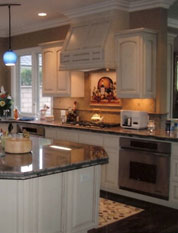 Prior to the introduction of dual-fuel units, the trend was to go to a separate gas cooktop with an electric oven - either under the cooktop or in another location. I personally don't want to stand in front of a hot cooktop with an oven venting out the front right underneath. But you have to remember what utilities you currently have and whether or not you are willing to pay to have them moved or another source of energy brought in. It can get expensive. So do this investigating before you even bother to go shopping. You will save yourself a lot of time.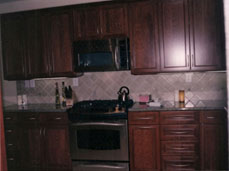 Ranges: If four burners is enough for you and a single oven is adequate (except for a couple of holidays), then a 30" slide-in or drop-in or professional range will suffice. This is the most common arrangement, primarily because it is so easy to change them out. If your kitchen is really small, the most efficient arrangement is use this unit and to install a microwave/hood over it. However, a micro/hood will not be sufficient for a professional range. If there is more than one cook in the kitchen, stacking the cooking appliances can create a traffic jam.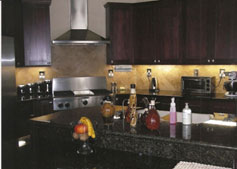 If your needs are more specialized and you need six burners or want a grill or griddle, for only six more inches you can install a professional-style range or cooktop that will also give you the option of more BTU's. (15-18,000 vs. 8-12,000 on a residential unit. Professional ranges will give you more heat than your average slide-in range. You will have to use a more powerful exhaust hood and it may require a larger duct than the one you have now.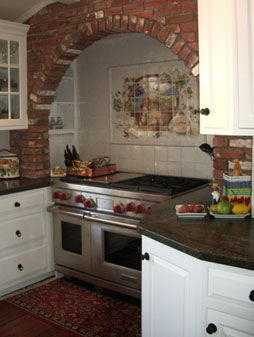 Say you are a gourmet cook or you like to entertain large groups of people and have the space for a 48" or even a 60" professional-style range. With a 48"range you have the option of 6 burners and either a grill or a griddle. With a 60" range you will have 6 burners and a grill and a griddle. Be aware that you will most likely need not only a more powerful exhaust hood, but also an externally-mounted blower mounted on the outside of your house (something to consider if your range is in the middle of your house and would have to travel many feet to reach the roof or an outside wall).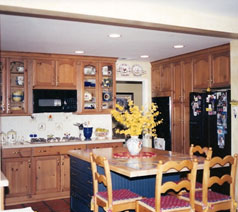 Wall ovens: If you already have a wall oven or a double wall oven, then it will be easy to go back with a similar arrangement. This is probably the most preferred arrangement because getting into the oven doesn't require standing on your head. And, if you need two ovens, this is the most common configuration.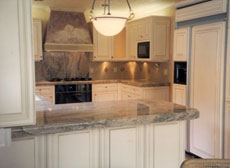 However, if you are short on counter space, putting the oven (s) under the counter instead of in a tall cabinet will free up about 5 square feet of counter space.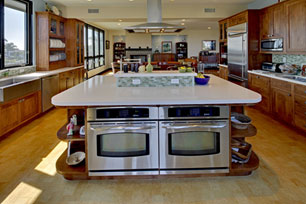 And you can always put two single ovens under the counter instead of stacking them too.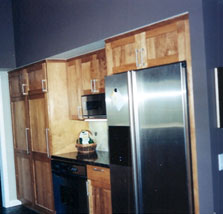 Don't think that the oven has to go under the cooktop either. In today's world it is the least used appliance in the kitchen, so it can go across the room next to the pantry as long as you have a landing spot nearby. Once you put something in the oven, it typically stays there for a while without needing to be stirred or checked minute by minute.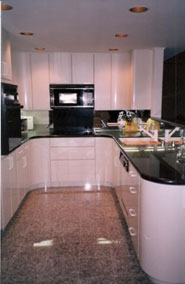 It might be more important to you to have the pots and pans under the cooktop than the oven. But, if you opt for the one-piece range, you don't have that option.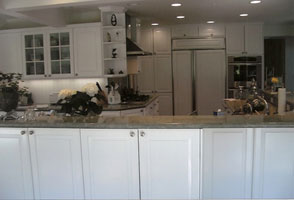 Wall oven(s) are handy for people who have back problems because bending over is not required.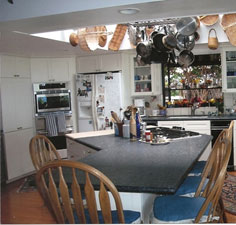 And if you only use the second oven on Thanksgiving and Christmas, then consider whether or not you could substitute a convection/microwave and/or a warming drawer in place of the second oven. They take up less space and typically cost less too.
Cooking surfaces: When it comes to cooktops or range tops, the basic options are gas/propane or electric.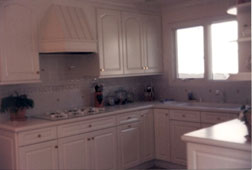 Natural gas is the preferred type of heat, hands down. Even though it is a combustible gas, it is easy to control and is quick. Propane is a substitute for natural gas when you live in the country and natural gas lines haven't been or can't be installed. If you are on propane, you must specify which type of gas you will need when you are ordering your appliance. A conversion kit may be required.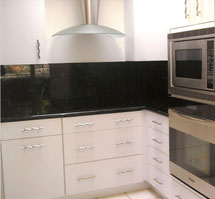 In the electric department, there are more choices. There are the old stand-by "cal" rods, or coils, that most people are familiar with. They are slow to heat up and slow to cool down, but they heat evenly, even though nobody likes to clean the drip pans underneath. When you take a cal rod and turn it sideways and flatten it out, you have "ribbon" technology, which is the system used in glass cooktops. Ribbon technology competes with gas for quick response time. And the smooth tops are easier to clean.
Even newer than ribbon technology is induction cooking. This was a method that was introduced about 20 years and didn't take off any faster than the cast iron "hobs" that came out about the same time. Well, folks, it's back. Several manufacturers have made the investment and come out with this new technology that requires pans to have flat bottoms and have some iron content in the bottom. Your pots and pans will work on this type of appliance if a magnet sticks to the bottom of your pans. In this type of cooking, only the pan is heated, which in turn heats the food. It is extremely quick, with similar response times as in gas cooking. So, if you want gas but it's not available in your neighborhood, try either ribbon or induction technology. They both have smooth glass tops and look similar, but their functioning is quite different. Induction will, however, cost more than ribbon even though they are both smooth glass tops.
In terms of size, cooktops are available in 12" or 15" hobs, which allow you to combine fuel types and customize your cooking arrangement. These are most commonly found in the European appliance selections such as Gaggenau or Miele.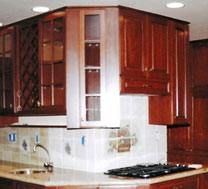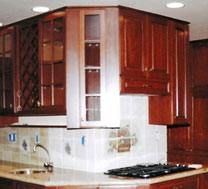 The most common size is a 4-burner 30" unit. Most 36" units will also be 4 burners, although it is possible to have a fifth burner in the middle. If you opt for a professional-style cooktop you will find six burners in a 36"unit or you can opt for four burners with either a grill or griddle. As in the range options, a 48" pro cooktop will offer four burners with a grill and griddle or six burners with either a grill or a griddle. Your choices will, of course, depend on the amount of counter space you have available to work with.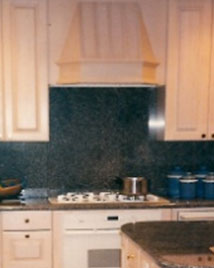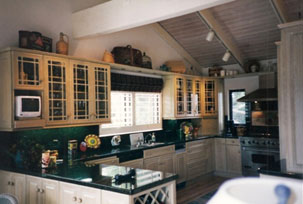 Microwaves: Everyone by now is familiar with the speed of microwave cooking and more Americans have microwaves than have TV's. I am not among them. I got rid of mine about 10 years ago because I had read information that convinced me that what it did to food was not healthy.
(If you are curious, try this experiment: microwave a cup of water, let it cool and water one of your plants with it. Do this whenever you normally water your plants.
Don't use any other kind of water on this plant. Take a picture of it before you start the test and another one after a month or 6 weeks (if it is still alive).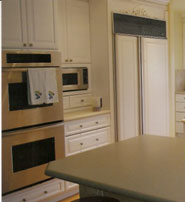 If, however, you rely on your microwave too much to give it up, then consider an alternative to installing it above your range by installing it somewhere between the fridge and the table, which would be the most convenient place for it.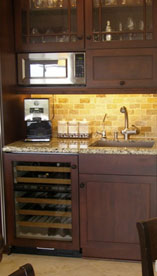 There is one particular microwave that I use 99% of the time, specifically because of its dimensions. The G.E. Spacemaker II one cubic foot microwave is approximately 24"widex 12" high x 12" deep. It therefore fits in flush with a wall cabinet, so you don't lose the use of the counter space underneath the micro. And it fits under a 24" wide wall cabinet or in a 27"wide wall cabinet. It can be installed under a wall cabinet without a trim kit at eye level so that the bottom of the microwave is flush with the bottom of the wall cabinets. I do everything possible to get the thing OFF the counter since most people that remodel their kitchen are demanding more countertop space.
Another new item in the market place is a speed oven, which combines radiant heat from a halogen bulb rather than a standard heating element with microwave cooking. This oven will cook four times faster than conventional if itís wired to a 110 outlet, or eight times faster if connected to a 220 outlet. I do not have personal experience with this particular oven, but if you're interested, your appliance salesperson can possibly give you some personal references.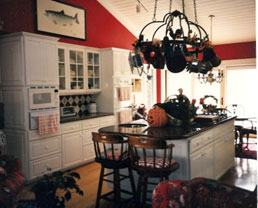 Warming drawers: If you have school-age kids and everyone is going in a different direction, a warming drawer may be a godsend. You can fix one meal and put the plates in the warming drawer and everyone can eat when they arrive. Between working late, cub scouts, music lessons and sports practice, it's rare when a family can all eat together. Warming drawers come in 24, 27 and 30" widths. Actually, the drawer unit itself is the same on a 27 and a 30" unit, but the drawer head is larger on the 30" unit in case you want to install it under a 30" wall oven and have them align. Warming drawers will require a power source, are 24" deep and need to fit either under the counter or under a wall oven in a tall cabinet. If you are installing it with base cabinets, it works best if it is just under the counter and the other base cabinets are underneath it. Once again, it is not an appliance that you use continuously, so it doesn't have to be in the main work triangle. It can be across the room with the oven or even near the eating area. Warming ovens have a moist and a dry setting, so you can put rolls in on a moist setting and have those squishy rolls you get at the restaurant. Or, if you like the crispy rolls, you can use the dry setting. This is a great option for the pies at Thanksgiving. You can bake them early in the morning and leave them in the warming drawer to free up the main oven. They also are great for keeping the pizza warm or for warming plates before you serve your meal.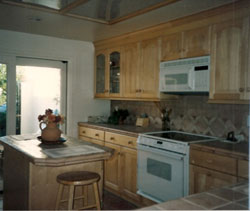 Convection/microwave units can either be installed above a wall oven or above a 30"wide cooktop or range. Like microwaves, they are a standardized size for over the range and you don't want to put a 30" micro/conv/hood over a 36" cooktop. Combination units are great space-savers and give you the option of having a microwave and a second oven, albeit a smaller one. However, convection ovens don't have to be large to work well. They are great for doing baked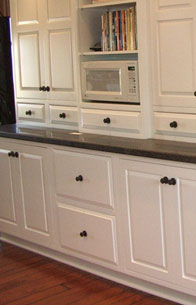 potatoes, roasting chicken, baking, etc. And you can combine the convection with the microwave cooking if you choose. With the exception of one Kitchen Aid model that has a drop-down door like a regular oven, all microwaves and microwave/convection ovens hinge on the left with the handle on the right. So you want to place it on the left end of a run so that your counter space is to the right of the appliance (the side where the handle is located). Having counter space on the left side will require that you maneuver around the back of the door to sit down something hot. Not a good arrangement.
Also know that if you combine a microwave with a convection oven you do not have the option of installing it in a wall cabinet unless you increase the depth of the wall cabinet to at least 18" - which makes the countertop underneath almost unusable. Of course you can install it in a tall 24" deep oven cabinet too, above a single oven. But I do not recommend installing a microwave or a micro/convection oven above a double wall oven. It will be too high and you will be pulling hot food out above your eye level and could potentially spill it on yourself.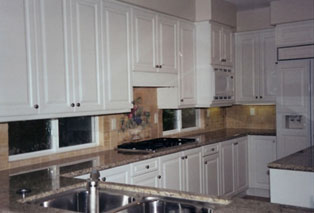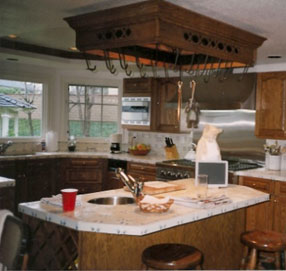 Coffee Machines: If you are into coffee and have the space, you can have your own private commercial quality coffee machine. All it requires is an outlet and a water line. However, it will have to be installed in a base or tall cabinet that is 24" deep, preferable at a comfortable height. Allow 24" for width and 21-1/4" for height. Check it out.
Ventilation: Where there is smoke, there's fire - and an exhaust hood is required for safety reasons: to remove smoke, odors, grease and combustible gases. These are required by code for safety purposes, but they don't work if you don't use them! And most people I talk to don't use them because they are noisy and are under-powered. That's what happens if you buy a cheap hood or if you buy a unit that doesn't vent out at all, but only filters the air and returns it right back above your head or into your face. If you haven't shopped for an exhaust hood recently, you will be pleasantly surprised. There are lots of attractive options available in numerous sizes, styles, materials and finishes. But first of all, you want the hood to be at least as wide as your cooking surface - or even 6" wider. The recommended height of an exhaust hood is 30-36" above the cooking surface, which means that if you're 5'6" or taller it will either hit you in the nose or obstruct your view. Talk to your appliance salesperson about what you need, which will be entirely based upon what you have chosen for your cooking appliance.
The number of BTU's on a gas appliance will tell you what you how much heat will be produced and will determine your needs for venting. The CFM's (cubic feet per minute) describe how powerful the fan motor is and how quickly it will move the air out of the house. You will have to know your ceiling height when you order your hood to get the height that you want above the cooktop. Hoods are so attractive these days, that you may even choose to install one over an island, in which case it will have to be mounted to the ceiling and be slightly deeper from front to back to capture the air more efficiently. If you are installing a commercial-type range or cooktop you will be getting into some serious BTU's and may choose to have a hood with a remote blower. That means that the fan unit is installed on an outside wall (which requires an outlet) and only the intake part of the unit is located in the hood. This will reduce the noise as these units are very powerful and ,even though they have multiple speeds from which to choose, they will still make more noise than a smaller motor will.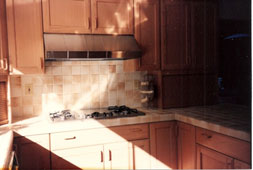 Hood sizes: Exhaust hoods come in various widths from 30"-48" and even larger if you need something custom. For a residential cooking surface, the depth of the unit, if installed under a wall cabinet, is typically 18-22". (Remember, wall cabinets are 12" deep). However, you can also purchase exhaust hoods that replace a wall cabinet, tilt out at the bottom and have custom doors on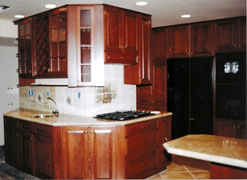 the front that match your cabinets. There are also units that fit up inside a wall-depth cabinet and only the very bottom piece can be pulled out when the unit is operating. Hoods come in convex, concave, and chimney style, as the unit is operating. Hoods come in convex, concave, and chimney style, as well as some other modern forms. When I started in the business 25 years ago, there was basically one type of exhaust hood to choose from and it went under a wall cabinet. Today, an exhaust hood can be the focal point of your kitchen.
Island or Peninsula Applications: If your cooking surface is on an island or peninsula and you are looking out into an adjacent room, you probably won't want a hood blocking your view. And if you don't have a full-height wall behind the cooking unit, it will be more difficult to capture the heat/smoke/odors. There are special hoods constructed specifically for these applications and they are slightly deeper in order to be more effective.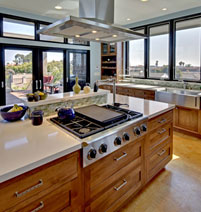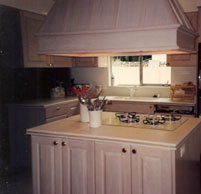 Island hoods will be mounted to the ceiling and will either be vented out through the roof (if you don't have a second story) or will be routed to an outside wall. If you are changing the location of your cooktop and plan to use an updraft unit, it will be important to know which way the ceiling joists are running so that they don't all have to be cut to accommodate the ductwork.
Downdraft units can be purchased separately and can only be used on residential equipment. They are typically installed across the back of the cooktop and cannot be installed behind a stove, range or under-counter oven without framing a deeper wall in which to house the unit. Know that when this unit is installed behind a standard cooktop, it will reduce the depth of the cabinet in which the cooktop is installed by about 13". So your drawers will be shortened in length and rollout shelves won't be necessary. If you are on a peninsula the downdraft will be ducted to an outside wall, usually under the cabinets in the toe kick space. If you are on an island it will be necessary to cut the slab or go under a raised foundation in order to install the ductwork. If you have a post-tension slab, please be sure to let your contractor know about it.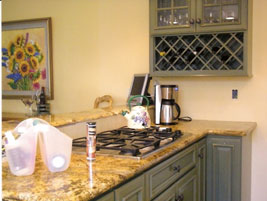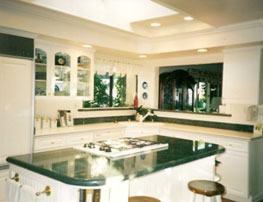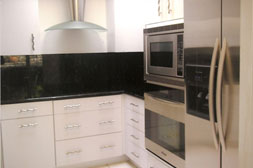 Hood materials: Since we are dealing with heat, and potentially fire, all hoods must be made from a non-combustible material. The basic ones are metal and are either powder-coated a color or have a metal finish, Stainless steel is the most popular, but if you want brass or copper, they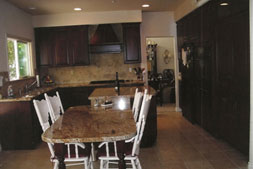 are available - at a price. You can also have a stainless steel chimney and a glass canopy if you want something non-obtrusive. A custom option is to order a liner/blower kit and install it inside a wood hood that is provided by your cabinet company. The liner fits inside the hood, which is what makes it non-combustible and the blower unit comes with it. Or you may have to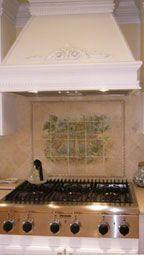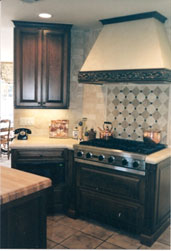 have the liner custom made. The same liner/blower option can be installed inside a framed hood that will be drywalled or plastered on the outside, oftentimes with a decorative finish or moulding. Make sure when you buy your appliances that the salesperson knows the cooking equipment you are purchasing so they know how to size the ventilation equipment. It needs to be compatible.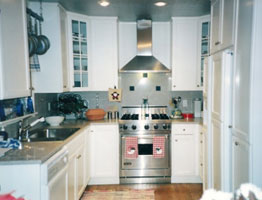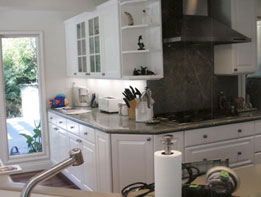 # # #